News and Announcements
---
On May 22, FIRST held an FRC awards show and celebration to announce the 20 Game Design Challenge Finalists as well as the 20 Finalists for the FIRST Innovation Challenge presented by Qualcomm.
Watch it here!
---
---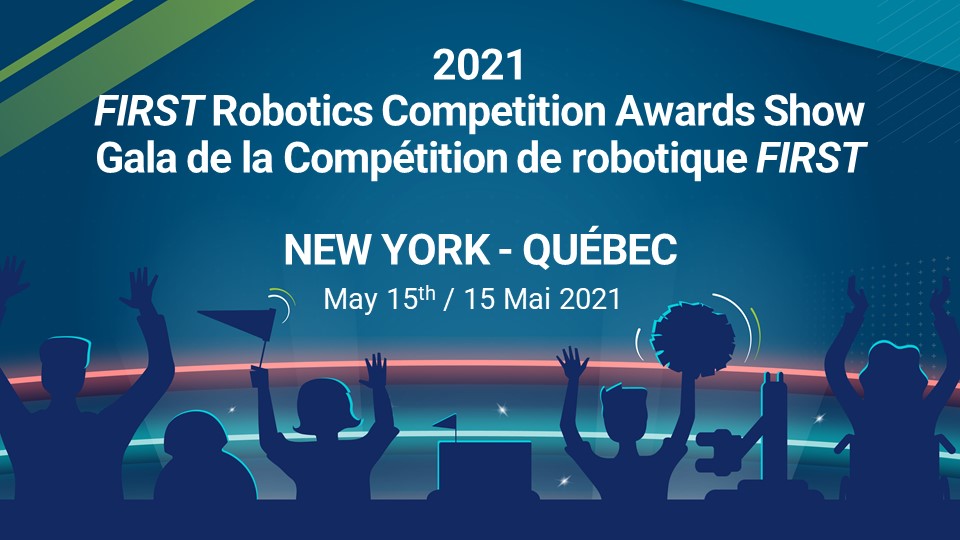 NY and Quebec FRC Region Awards Show
Watch it here!
FIRST Robotics Competition Awards Show
---
Words of Gratitude for a Great Season!
FIRST Lego League Team 38653: Imagination in a Nutshell 2, shared some wonderful thank you notes to our FLL organizers, volunteers, and judges for their experiences in this year's challenge. Read more here!
---
FRC Kickoff
Watch it here!
Find out about the challenges for the 2021 season, hear what Dean has to say!
---
2021 FRC Virtual Events
Region interviews occur as follows: 
Dean's List interviews are between March 5th and April 11th.
Chairman's Award interviews are between March 12th and April 11th.
INFINITE RECHARGE at Home challenge will consist of both skills challenges and judged events.
Judge interviews are planned for April 19-23.
Dates for FIRST innovation Challenge presented by Qualcomm and the Game Design Challenge have not yet been set.
FIRST is actively seeking volunteers to serve as judges for the activities.
---
---
Congratulations to all of the award winners for SBPLI Long Island Regionals 1 & 2!
While this season may not have gone the way we expected, we can't help but be inspired by the passion and commitment, and Gracious Professionalism from all of the students, mentors, and volunteers! Together we RISE!
---
The FIRST Step In U.S. Technology Competitiveness
Forbes Magazine published a fantastic article highlighting the importance of FIRST programs. Read it here.
---
Hey Alumni!
We want to hear from YOU!
Sign up for our new FIRST Long Island Alumni mailing list by clicking HERE.
---
Need parts to help build your robot? Our sponsor FESTO can help. Call them today at 1-800-99-FESTO, mention that you're a FIRST Robotics Competition or FIRST Tech Challenge team representative and receive a discount on parts! Visit the company's FIRST-focused page www.festo.us/first for more details!